G e r a l d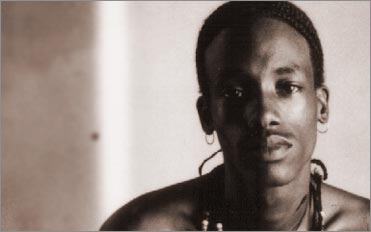 Gerald Thomas Collymore (22) studies music. His role model is his father, who is working in the construction industry on the Barbados Islands.
When you ask Gerald about his future, he talks about fighting.
What does he lacks in order to be happy? "A safe life."
Because, continues Gerald:
I have one main problem in life. Simply being alive.
Because being alive is a difficulty for every human being, because if life were something they put in your hands just like that, and gave you everything, it would not be difficult, you see?
For me, simply being alive is difficult, but it's also a privilege to have that difficulty.

About love, passion:
He who lives without love does not live, he's dead in life. Because love is what gives you the impulse to live. If you don't feel motivation for someone or something that pushes you to do something, if you live out of love, why live?
About his beliefs:
I believe in God in an everyday way. There are many things that no one knows. It may be that everything that is written is not accidental, then it's mythology. But life is reality.

About happiness:
My vision of happiness is having everything well defined in life. With that, there's happiness. But I don't think there's happiness in life for anyone...

Infidelity:
When there's infidelity, one loses all sorts of human qualities, as a friend, as a partner, in everything...
Being untrue to someone is losing your own qualities.
You are losing human value.
About how he approaches his work:
Yasel, the band's leader, gives me the lyrics and the rhythm he wants. And with that, I begin to lay down the rhythm, with percussion only.
Always keeping in mind the song. And then, incorporating the tres, which gives the melody, the harmonic base.
Rap and reggae also have syncopation. This has a lot to do with changui because it has a lot of syncopation. I try to mix both in one rhythm, because what the changui lacks, hip-hop or rap have it. The fusion of both creates a fairly complete rhythm.
Communication in the band:
In the band, someone always has an idea, there's communication. Yea, I could get things done by telling people what to do, but if there's no exchange of ideas in the group, nothing works, you see? Everybody has to do his job voluntarily...
Daily life:
Daily life in the province is very monotonous. There is nothing to do for fun. We have no input of information of any kind. I'm talking about music, recreational information, any kind. Our only option is the carnival, when it arrives.
Gerald studies piano and is continuing with percussion. He is the second singer in the band and, like Yasel, he has a tremendous talent for improvisation. He is also writing his own and the band songs. For Madera Limpia Gerald is in charge with the all musical arrangements.
Besides all the percussion, he is playing also flute, Tambor de boca, Maracas and is learning now the Didgeridoo.